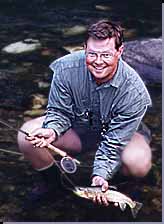 A native of the Pacific Northwest, August Kristoferson's involvement with art began at an early age. Those things that interested him, motivated his drawing. "Most children start out with a positive attitude toward art, using it freely to express themselves," says the artist. "That attitude often changes when kids feel their artwork must meet certain standards to be 'okay'. Then, all too often, both the artwork and the 'artplay' are abandoned." Always encouraged, August continued his "artplay" in drawing, oils, and photography. Attending college in New York (engineering), he saw a different landscape: lush when Spring finally sprung and aflame in the fall.


Returning to the Puget Sound area's beautiful combination of mountains and water, Kristoferson once again enjoyed the outdoor life and, in time, developed a keen interest in fish. As before, his interest motivated his art: this time in watercolor. While he paints many subjects, fish dominate his work. "An intense interest in your subject makes you a harsh critic of your own work, but it also speeds your development as an artist," he notes.




















Recent projects include illustrations for Rivers of the Heart (Lyons Press) and Fishing Washington's Endless Season (Flying Pencil Publications); art for a traveling museum exhibit entitled Come Wade the River, the Nature of Northwest Flyfishing; and several commissions.

In addition to his own work, August works with children in the Seattle Schools to promote a positive attitude toward art. "Regardless of ability, art can be fun and liberating for kids . . . and it reaches a few that might otherwise slip through the cracks."
On the Subject of Fish . . .
Asked about his favorite subject, Kristoferson says "The fluid movements of a fish swimming freely can be mesmerizing. When threatened or in pursuit of prey, they move with electrifying bursts of speed. It's an amazingly radical transformation. I try to capture this strength structurally and use the line to convey their graceful movement. Depending on the species, habitat, and time of year, fish coloration can range from subtle to gaudy. Nearly always, it is a variable combination of colors which give a real sense of depth."




Virtual Stream Web Design



Copyright © 1998. All rights reserved.